Public address systems are an essential tool in communication throughout a premises or campus. Raksha has nearly 6 years experience of manufacturing, installing and servicing a wide range of audio and public address equipment.

Public address systems are an essential tool in communication throughout a premises or campus. Public address systems can broadcast information from single or multiple sources to large groups of people in:

1. Specific areas of a building – "zones"
2. All areas of a building – "all call"

Messages are sent from an operator via a microphone console or telephone handset and are routed through amplifiers before being distributed from speakers in the designated areas.

PA Systems can distribute music into work places from digital media or radio.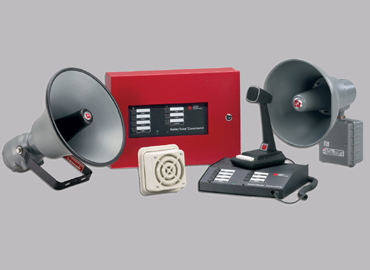 Voice Alarm Systems
Voice alarmss form part of the Fire Alarm Systems evacuation system where a spoken message gives clear details of the problem and identifies the necessary action to be taken.

It has been proven to be the fastest and safest method of evacuation because it delivers an emergency attention drawing signal followed by a recorded message, whilst also delivering live emergency announcements from the fire officer.

Standard facilities available on PA systems include:

1. Routine paging announcements
2. Background music,
3. Interfaces to other devices
4. Spot announcements


What can Raksha Safety Solutions provide you?
Raksha Safety Solutions can provide you with the confidence that your system will be designed, installed and maintained in accordance with all British Standards. We will conduct site visits to establish and agree your needs and ensure that your system meets your exact requirements.

As legislative requirements of audibility and intelligibility can be stringent in complex acoustic conditions, it is critical that a system is designed and specified properly.


Expertly designed public address systems
Our systems are designed and installed in accordance with the following regulations:

1. BS5839 part 8 for the UK
2. EN60849 throughout Europe
3. BS7827 for sound systems at sports venues

If a new public address system is required, our implementation process includes:

1. Examining your public address specification requirements, including minimum sound pressure levels and post installation speech intelligibility testing eg. STI or RASTI testing
2. Providing a detailed evaluation of the space that the PA system will serve
3. Seeking compliance with any performance specification and / or relevant standards.